For the past few years, with each edition of the Onkobieg ("Oncorun") charity run, we updated the official website of the event. This year our challenge was to rebuild the registration process and make it more user-friendly, as well as more accessible for people with disabilities. And since the event is run by a non-profit organization, we had to accomplish this on tight budget constraints.
Now that the new registration site for the 12th edition of Oncorun is live, we are happy to share a few of the ideas that we put into action to improve usability and accessibility.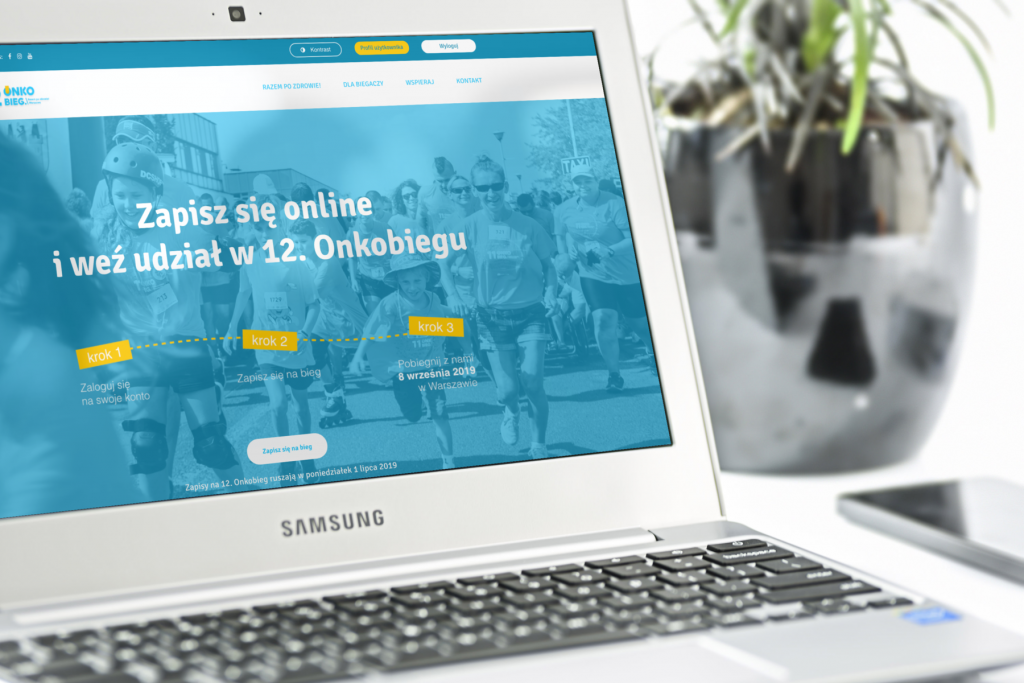 Usability enhancements:
Progress indicator
In the previous version of the registration interface, there was no clear overview of the required steps displayed to the user. Including a progress tracker gives the user an idea of what to expect on the way to the starting kit.
More readable form hints
Form prompts have been reworded to be more specific – for instance, "Fill in this field" has been replaced with "Enter your e-mail". The Call To Action buttons also got new labels to better communicate their purpose – e.g., "Print your registration card" was changed to "Download your printable registration card".
Form design tweaks
Some unnecessary field decorations have been removed, and a clear indication of required and optional information has been added. Repeating the password is no longer needed.
Approachable terms and conditions
Large portions of legal information have been replaced with shorter introductions, expandable with a "Read more" option. All terms can now be accepted with a single "Check all" option.
Suggested donation
Registration for Oncorun is free, but participants are encouraged to make a donation. Highlighting one donation amount as the suggested one makes it easier for the user to take action.
Accessibility improvements:
Better readability
Blocks of text have been made narrower, with greater spacing between lines and paragraphs. We also abandoned justified style in favor of left-aligned text.
High-contrast version
We added a high-contrast view mode based on black and yellow.
"A breath of inspiration and fresh ideas. Thanks a lot for a job well done!"

Szymon Bubiłek
Member of the Board
Sarcoma Association (Stowarzyszenie Sarcoma)
Oncorun – Together for Health! (Onkobieg – Razem po zdrowie!) is the oldest oncology-themed charity running event in Poland, organized since 2008 by the Sarcoma Association (Stowarzyszenie Sarcoma). Its aim is to collect donations for persons suffering from oncological diseases and support them in their fight for recovery and a better life.
12th edition of Oncorun will take place on 8th of September 2019 in Warsaw.
Register now: https://onkobieg.pl/rejestracja-uzytkownika [in Polish]